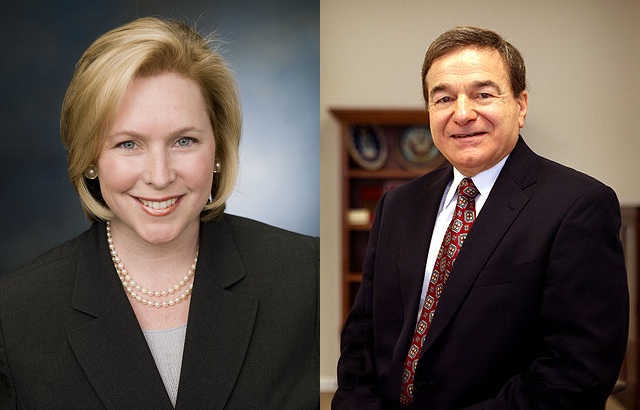 Tweet
Good evening. We have a great deal of new polling that's flooded in. Much of it is interesting too, so rather than pick and choose which polls I'll cover in depth and which I will omit, instead I'll give a quick look at all the good ones.
We've got Senate races in Nevada, Connecticut, West Virginia, Ohio, New York, Missouri, and Delaware, plus races for Governor in Illinois, Rhode Island, New York, Hawaii, and Florida. I told you it was a lot.
Nevada: Republican Sharron Angle got her second straight poll lead, as CNN/Time has her up 42-40 (MoE 3.5). Still, when I see two candidates bouncing back and forth with tiny leads, I call the race effectively tied. Note the oddity though: CNN has RVs going Democrat Harry Reid +11 and LVs going Angle +2.
Connecticut: Republican Linda McMahon loses more ground as the same CNN poll puts her down 54-41 to Democrat Richard Blumenthal (MoE 3.5) and Rasmussen has her slip to 54-43 (MoE 4). Good week for Blumenthal, but this might stick.
West Virginia: Republican John Raese leads again over Democrat Joe Manchin 50-44 (MoE 4) per Rasmussen. The wheels might be coming off for Manchin, thanks to Barack Obama.
Ohio: The wheels might also be coming off for Democrat Lee Fisher as Quinnipiac puts Republican Rob Portman up 55-36 (MoE 3.1).
Missouri: Continuing the wheel-loss theme, CNN/Time has Republican Roy Blunt ahead of Democrat Robin Carnahan 53-40 (MoE 3.5).
Delaware: I don't know if Republican Christine O'Donnell ever had the wheels on securely to begin with. Unless she turns Democrat Chris Coons into a newt, and ensures he doesn't get better before election day, results like this Fairleigh Dickinson 53-36 showing (MoE 3.5) will just keep on coming.
And a pair of races in New York: Democrat Kirsten Gillibrand got a pair of much-needed double figure leads over Republican Joe DioGuardi from PPP (50-40, MoE 4) and that CNN/Time one (55-41, MoE 3.5). Likewise, CNN/Time has Republican Carl Paladino back down 41-55 (MoE 3.5) behind Democrat Andrew Cuomo in another seeming reversal of that post-primary bounce the New York Republicans got. We will have to watch that state.
In Illinois Democrat Pat Quinn seems to be overcoming the Blago curse and is at least only down 8 in Rasmussen to Republican Bill Brady, 46-38 (MoE 4.5).
Linc Chafee returns in Rhode Island as he leads the Rasmussen poll for Governor. As an independent Chafee has 33 to Democrat Frank Caprio's 30 and Republican John Robitaille's 22, MoE 4.. This is one independent run that seems to hurt the Republican, unlike the usual trend this year.
Hawaii is positioned possibly to return Republican Charles Djou to the House, and is also possibly ready to elect another Republican governor. Democrat Neil Abercrombie does lead in the Daily Kos/PPP poll, but Republican Duke Aiona only trails 47-49 (MoE 2.7). That's competitive.
Ready for another Florida recount? Democrat Alex Sink leads the new poll but only 41-39 over Republican Rick Scott, MoE 3.5. The Zogby poll for TCPalm.com reverses Rick Scott's recent leads, but keeps it so close we can't be sure what will happen. Well, it's Zogby, yeah, but at least it's not Zogby Interactive.
If I had to name one trend for all of the above, I'd say we're starting to get a picture of what the final battleground will be. Some states that one side or the other thought would be close, will not be, and the last pushes will be in the key states.
And again, here's hoping for no ugly recounts!