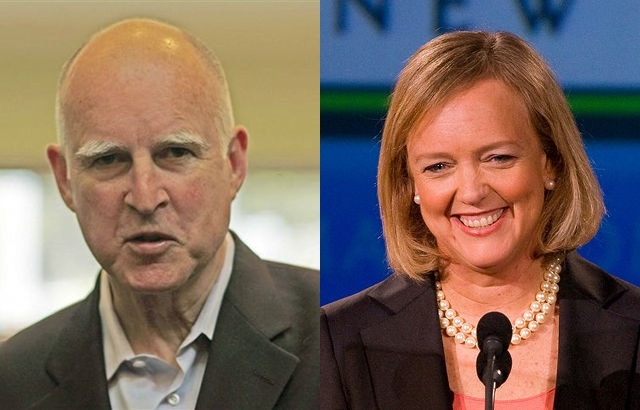 Tweet
Before the primary, for a while when Meg Whitman was campaigning and Jerry Brown did not have to, Whitman took a lead in the race for Governor in California. It didn't last, but the latest Field Poll is good news for her, and not just because it shows her with only a one point deficit.
Of course it's good news for Whitman that Brown's lead is down to one, 44-43 (MoE 3.2), but the key for her lies below the top line. Says the San Francisco Chronicle:
Whitman has trimmed Brown's lead among Latino voters to 11 percentage points, down from 24 points in January, Field Poll director Mark DiCamillo said.

"He needs to get at least two-thirds of the Latino vote," said Henry Brady, dean of the Goldman School of Public Policy at UC Berkeley. "This is not a poll that bodes well for him."
When Democrats lose too much of the Latino vote in California, elections swing. Winning that group is what helped Proposition 8 pass in California, and Meg Whitman doesn't need as many as that measure did.
And Whitman can continue to pour money into the campaign, staying on the air, defining herself with voters even as Jerry Brown remains unknown to 40% of voters under 40. Brown's strategy seems to be to wait until the fall. Will that be too late?
And will Meg Whitman have the same coattails for Carly Fiorina in the general election, that I'm convinced she had in the primary? I'm not sure that's something that can be polled, but the effect could show up in November, given that Fiorina and Whitman have similar backgrounds leading well known technical firms before starting their political careers now.