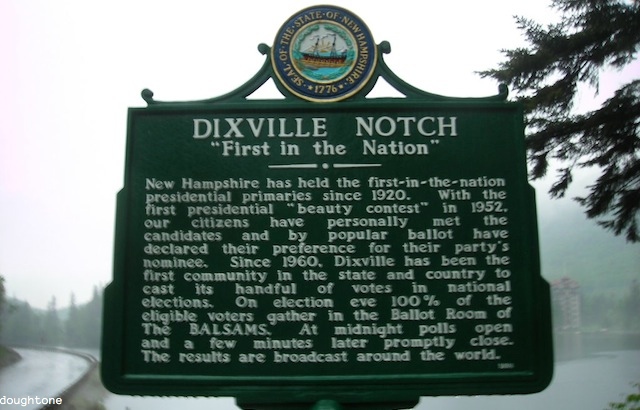 Tweet
I made a big deal about the polling in Iowa being skewed. However I have no reason to suspect oddness in the New Hampshire polling going into today. Open primaries are much easier to poll than closed caucuses.
Jon Huntsman has rebounded rapidly, but he'll likely finish behind Mitt Romney and Ron Paul.
The Suffolk University/WHDH 7 News tracker has seen Huntsman's support double in just a few days, bringing the race to its current Romney 37, Paul 18, Huntsman 16, Rick Santorum 11, Newt Gingrich 9.
Rasmussen Reports suggests the same finish order: Romney 37, Paul 17, Huntsman 15, Santorum 13, Gingrich 12. Note that not only is the finish order the same, but the absolute support levels are similar.
Even PPP is in the same neighborhood. PPP has Gingrich jump a notch, barely slipping by Santorum, but Romney 35, Paul 18, Huntsman 16, Gingrich 12, Santorum 11 is in the same neighborhood.
UNH/WMUR seems to be better for Romney and worse for Huntsman at Romney 41, Paul 17, Huntsman 11, Santorum 11, Gingrich 8, but again, same ballpark.
If all of these polls are wrong and we don't get the same top three finishers, with Santorum and Gingrich fighting for fourth, I will be surprised. Open primaries are the next best thing to general elections for polling to work with, because the two are fairly similar. Turnout is lower, and committed supporters of the other party are less likely to show, but the principle is the same.
And what about Ron Paul? Not only is this an open primary, allowing Ron Paul's non-Republican base to vote freely, but New Hampshire is the home of a fringe political movement called the Free State Project which which has brought hundreds of committed political activists to the state. Wikipedia says a dozen won political office in the 2010 elections. It's a tiny movement with disproportionate impact because it brings people willing to commit to great efforts for their cause. And Ron Paul endorsed the project in 2007.