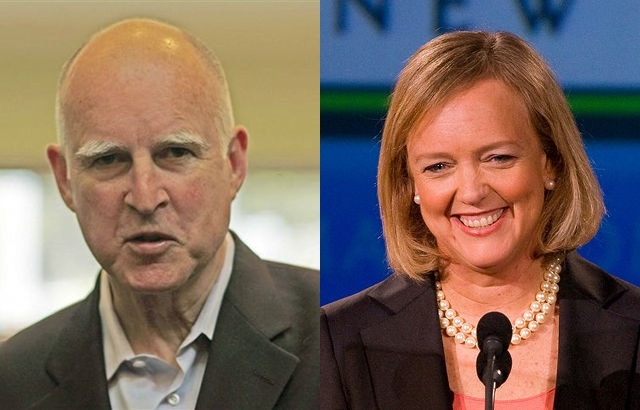 Tweet
The directions of the two Republican candidates here in California had been pretty much moving as expected for most of the campaign season. The abortion-friendly Republican Meg Whitman was leading Democrat Jerry Brown, while the abortion opponent Republican Carly Fiorina was falling further behind Democrat Barbara Boxer.
New polling though, such as the latest from Ipsos for Reuters, seems to contradict that.
Whitman rattled off six straight polls and eight of eleven from July to September, pretty much owning the post-primary period. But starting in mid-September there's been a chance. Abruptly things shifted to ties and now Brown leads. Brown has taken six in a row and nine of ten. Whitman's only led one of the last thirteen polls going back to mid-September.
The latest Ipsos/Reuters seems typical of the new normal: Brown 48, Whitman 44 (MoE 4). That by itself is a 70/30 split, but after so many consecutive Brown leads it's hard to say Whitman has any forward momentum. Did she peak too soon with her early ad blitz?
The Senate race though has been the opposite story. Boxer took a good lead after the primaries and – except for a brief patch at the end of August – has held it the whole way. But just as it looked like Boxer might run away with it, Fiorina started her ad campaign, and the result has been a gradual narrowing of the gap.
That same Ipsos/Reuters poll is typical of the new normal in this race, too: Boxer 46, Fiorina 45 (MoE 4). That's a 55/45 split and virtually a tie. If this trend continues I will have to include CA with WA, WV, IL, and NV as the critical Senate battleground going into November.