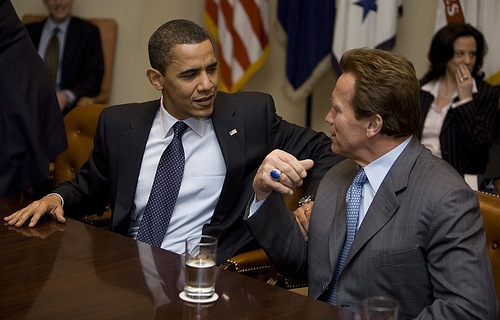 Tweet
USC and the LA Times polled some of the major California statewide races. The results, provided by pollsters Greenberg Quinlan Rosner and American Viewpoint, seem generally in line with what we've seen so far: Campbell and Fiorina are in a close primary race, lagged by DeVore. Boxer can't reach 50. Whitman cruises in the primary.
The big news to my eye is that Jerry Brown has fallen behind.
Personally I've been assuming all along that former Governor Brown was a lock to win a third term. His only primary opposition quit early, and the Republican opponents show a marked leftward swing from the national party mainstream. Of the Republicans, not one major candidate for Governor this cycle claimed to be pro-life in a party well known for being on one side of the abortion wedge.
But here comes the USC/LA Times poll, which puts Whitman ahead of Brown 44-41 with a margin of error of 2.6, giving Whitman a 71% chance of being ahead. The poll joins others that Real Clear Politics has found in the last two weeks, none of which has given Brown a lead since one three weeks ago.
The USC/Times poll failed to match up specific Republicans against Barbara Boxer, so the Senate general election poll is less useful. Even so, Boxer fails to reach 50 even against the Republican Party brand. That cannot comfort her when other polls against Carly Fiorina show her within a point, and against Tom Campbell show her losing.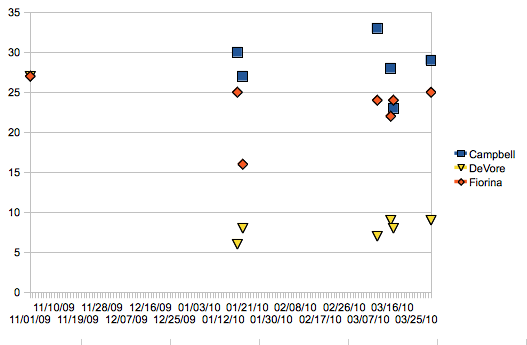 For the Democrats there are no meaningful primaries, as Boxer and Brown have no realistic challengers, so the only primary races to look at are on the Republican side. The Senate race is showing no movement at all, per this plot of the Real Clear Politics polling archive since November. Once Campbell entered, DeVore plummeted. He hasn't cracked 10% since, while Fiorina has hung close to Campbell.
And the primary for the Governor's race is hardly a contest, as Whitman shows 60% support, 40 points ahead of her remaining challenger, Steve Poizner. It's difficult to imagine that race changing without a catastrophe that forced Whitman to withdraw.