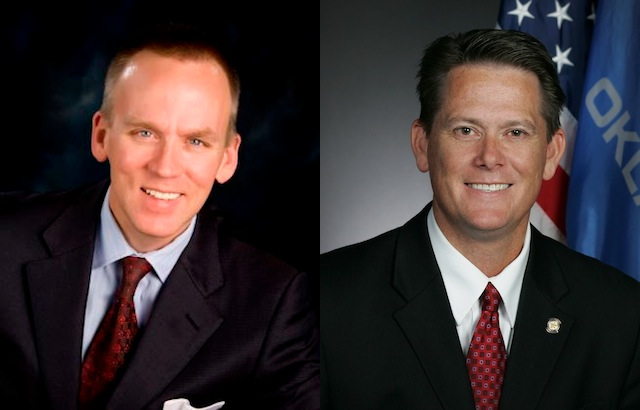 Tweet
By request, we look at a 2012 House race today. PPP polled Oklahoma's second district for the Friends of Brad Carson. Carson, a Democrat, of course won this seat previously in 2000 and 2002, giving it up in 2004 in a failed Senate run. Dan Boren, also a Democrat, won the seat in 2004 and has held it ever since. Boren is retiring, so Carson wants to run.
Is he in good shape, like PPP says he is?
PPP polled both likely general election and primary matchups. Republican George Faught does better against Democrat Ken Corn, but still trails Carson 43-35 (MoE 3) among registered voters, for a 9% chance that Faught leads Carson. For an open seat in the abstract, that's a fine starting point for a candidate, to be in the position Carson is in there.
However this isn't just any seat, and Carson isn't just any candidate. Carson previously won this district twice and while it's not technically the same district in 2012 that it was in 2002, it's rather close. After the lines were redrawn for the 2000 census, Carson won the second district 74-26 in 2002. Further, Dan Boren has won the district by wide margins: 66-34, 73-27, 70-30, and in the Republican wave year 2010 he still won 57-43.
So for Carson to poll only 43% in a district he won last with 74% of the vote, and that the Democrat last won with 57%, should not in fact be considered great news. Especially if Carson has much better name recognition than Faught has, which is likely but not published in this classic one page memo style internal poll.
The poll, having been commissioned by the Carson team, is likely to have a voter model determined by the Carson people. And possibly as a result, this sample of 1,074 registered voters contains "644 Democratic primary voters." Whether such a high level of partisan energy actually exists for the Democrats in this district remains to be seen.