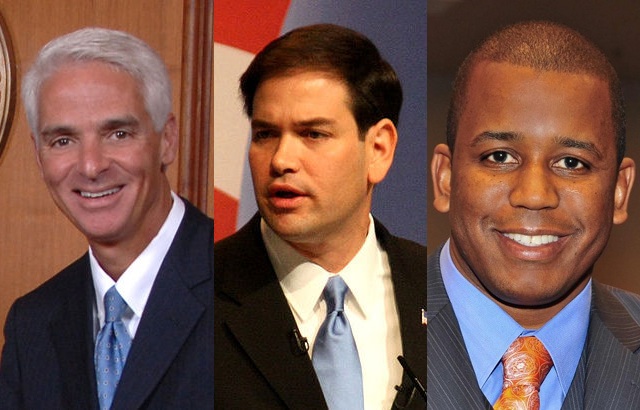 Tweet
Some may have questioned why, in my new Senate projection, I had Florida at a 55% chance to win for Republican Marco Rubio, when much of the polling has shown newly minted independent Charlie Crist with tiny leads.
It's because I saw this new poll from Mason Dixon which not only covered the primary the Democrats are holding, but the consequences of that primary on the general election.
In the general election race, we've been seeing mixed results as Crist and Rubio tend to take the lead from each other, but a trend is clear in my view: Kendrick Meek holds more Democrats than Jeff Greene does. That trend continues in this poll: Against Meek, Rubio leads Crist 38-33 with 18 for Meek. Agaisnt Greene, Crist leads Rubio 39-38 with 12 for Greene (MoE 4 for both matchups). Note that Rubio draws the exact same support level in both matchups, 38%, while Crist moves 5% and the Democrats are separated by 6%.
So what, why does that favor Rubio as I did in the ratings? That's because M-D also polled the primary, and Meek holds a large lead over Greene, 40-26 (MoE 5 for the primary). I calculate a 91% chance Meek actually leads, which is to me convincing.
Strictly discounting the Greene matchup, I show a 73% chance that Rubio leads Crist in the general. So after the primary there's a chance I'll be shifting that race even further toward the Republican column in my next race ratings.