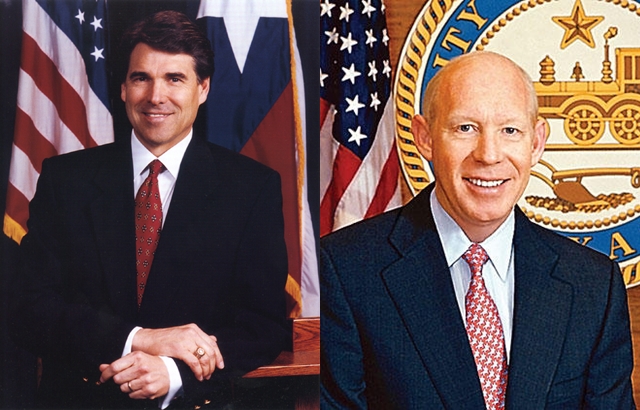 Tweet
Do southerners do well in Presidential elections? Two of the last three Democrats to win were southern Governors, and the last two Republicans to win were Texans. That's all some need to pencil in Rick Perry, two and a half term successor to George W. Bush, as a likely Republican nominee in 2012.
The latest from Rasmussen suggests his run for a third full term won't be easy, though. The White vote could be an issue.
Bill White, to be specific, has been closing on Perry for the last three months. In February he was well behind, 39-48 (MoE 4.5), giving Perry an 84% chance of being ahead. As of the 15th Perry is still at 48, but White is up to 44, dropping Perry to a 67% chance of being ahead.
After Tony Sanchez lost to Perry 58-40 in 2002, and Chris Bell only managed 30 to Perry's 39 in the 2006 race featuring independents Kinky Friedman and Carole Strayhorn, Democrats have to be excited about their chances to knock off Perry.
George Allen was supposed to be a Republican frontrunner once upon a time, after all.