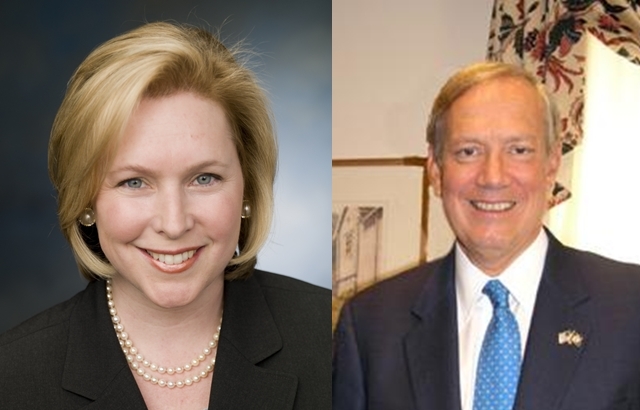 Tweet
Another Senate seat that Republicans would want to take for a shot at the majority is the one currently held by Kirsten Gillibrand, New York Democrat.
However with George Pataki declining to run against her, Democrats seem much more likely to hold the seat, judging by the latest from Quinnipiac.
Pataki leads Gillibrand in the poll, 50-45, with a margin of error of 2.6, for an 83% chance that Pataki is ahead. Gillibrand having been appointed to the seat to replace Secretary Hillary Clinton, it's not surprising that she would be vulnerable to defeat by a three-term Governor.
However Pataki has announced that he will not run, leaving us to look at the other matchup Quinnipiac tried, of Gillibrand against Bruce Blakeman. Gillibrand crushes the relatively unknown Blakeman right now 47-25, for a virtually 100% chance that Gillibrand would win that race today.
Surely Blakeman would improve over time with the nomination, gaining name recognition (81% of Republicans even have no opinion of him in this poll, versus 38% of Democrats having no opinion of Gillibrand), but a 22 point deficit in a state so strong for Democrats would almost certainly require unforced errors on the part of Gillibrand for Blakeman to make that up.
So for today, a change. Good news for Democrats.